Description:
At Beyond, we partner with people that want to design a better future.
We are a design and technology company.
We design and build products, platforms, and programs for the world's most ambitious brands; including Google, Snapchat, Facebook, Netflix and Diageo.
We are a diverse group of designers, strategists, engineers and wordsmiths who make things that people love to use.
Role Overview:
The Account Manager role will report to the Client Services Director and be a part of our growing Client Services team.
As an Account Manager at Beyond you will be expected to want to lead and be a trusted advisor to clients and colleagues. Some elements of this are captured below. If this sounds like a good next step, get in touch.
As a Account Manager at Beyond you'll:
Provide an energetic management of projects, working with discipline leads to deliver world class outcomes and products
Manage a constant dialogue with clients to understand sentiment and manage the evolution of their needs. Remaining proactive, not reactive – We are a catalyst for action and not merely facilitators
Employ a strategic understanding of each project through the brief, scope and desired outcomes. Understanding options at all points and being accountable for decisions
Working with our clients to build an account via expanding services, in line with financial targets and mutual goals
Be passionate about creativity applied through the lens of technology and able to understand and communicate solutions on behalf of Beyond
Take pride in what our team produces and be convincing in the rationale of the work
Be comfortable with learning new concepts, technologies and processes
Have an understanding of industry trends and embracing change to empower decision making through the application of innovative solutions
Challenge our teams to achieve more and always gain consensus before being happy with the end product. Is it the best work from every angle, could we go further or make it better?
Things that will make you stand out:
Experience within a digital, product or advertising agency, with your fundamentals in place
An enthusiastic approach to evolving your client service craft
You value autonomy in your role; as we often work remote, you will understand the responsibility of regular communication goes hand in hand with autonomy
Experience working and communicating with various levels of stakeholder, internally and with clients – asking for support where necessary
You enjoy the challenge of bigger budgets, turning projects into partnerships and showing value to your clients and you feel these are all part of your next step
And in return, Beyond offers:
A team of passionate people who genuinely care about what they do and the standard of work they produce
We work on a hybrid, remote first basis!
8% matched contribution pension scheme
25 days' annual leave, Juneteenth, your birthday off and a paid office closure between Christmas and New Years
Yearly flexible benefit allowance scheme that can be used towards private health insurance, medicash or dental care
A generous learning and development budget and the opportunity to be part of an annual leadership development programme
Enhanced Maternity & Paternity leave
15 days paid for sickness and wellness days
Free eye tests
4x life assurance
A strong company culture that includes weekly meetings, company updates, team socials, quizzes and celebrations We offer a friendly co-working space in our Next15 hub in Great Portland Street
In-house DE&I council and mental health first-aiders
Employee assistance programme with 24/7 advice
Benefits app, where you can get deals and discounts from hundreds of retailers
Interest-free season ticket loan and Cycle to Work scheme
We do really great Beyond Merch!
Having been named among Sunday Times Best 100 Companies, we believe culture plays a large role in what we offer as an organisation. We actively promote diversity in all its forms across our Studios and we proudly, passionately and proactively strive to create a culture of inclusivity and openness for all our employees.
Beyond is committed to welcoming everyone, regardless of gender identity, orientation or expression. Our mission is to remove exclusivity and barriers and encourage new thinking and perceptions, in a space of belonging. It is not about race, gender or age, it is about people. And without our people being their most creative and innovative selves, we are nothing.
Job Application Link: https://www.bynd.com/careers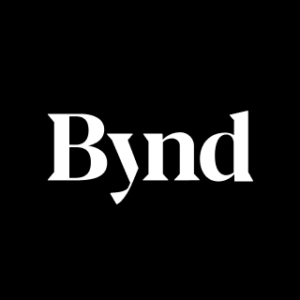 Beyond
Beyond is a design and technology agency that builds world-class products for the digital age.
APPLY NOW
Our member agencies are always looking for the best candidates to hire.