The Most Inspiring "Meet The Team Page" Examples by Digital Agencies
As a digital agency, there's one section you should absolutely have on your agency's webpage. And that is the "Meet the Team" page.
The Meet the Team page is one of the essential parts of your agency website because it shows that there is a team behind the work you do and what position the employees work in, and it helps the people visiting your website figure out who to get in touch with. Most importantly, it makes your agency more human.
What Makes a Great "Meet Our Team" Page?
The primary purpose of the Meet the Team page is to show the users what kind of team you are. Do you have an in-house designer? How many people are on your creative writers team? What sort of divisions are there?
About Us or Meet the Team pages indirectly allow you to contact your website visitors, aka your prospective customers. Thus, in addition to giving an idea about your work and the services you offer, it helps establish a line of communication.
Add a Personal Touch to Your Page
"About Us" and "Team" pages are usually the first places visitors check. The overall design of your website has great importance in luring your visitors into your site but adding a dash of creativity and showing that design thinking is your strong suit makes all the difference and boosts customer engagement with greater empathy.
Using quality images gives the message that you put in the work to present your team in the best way possible. Also, tapping into the authenticity of your team members increases the value of your brand.
Highlighting your team's strengths and expressing your agency's profile is always a good idea. Plus, detailing the responsibilities of your team members would be a great addition, as seeing the talents of your team might be something your visitors are especially interested in.
Optionally, you can include the links to their social profiles, websites, or blogs, and you can also use organizational charts if you have a large company.
Creating a "meet our team" page adds to your company's brand value. Let your prospective clients know who you are and what you do best. While doing that, don't forget to let your team members shine with their unique talents.
Inspiring "Meet The Team Page" Examples by Digital Agencies
We have listed a few digital marketing agencies that created amazing "meet the team" pages.  Now, let's find out what are these agencies doing right!
---
When you visit Crowd's About page, an orange button—the brand's signature color—invites you to get to know its "crowd." Although the team website first may appear to have a simple design, when you view the team photographs displayed under the "Our Team" heading, you suddenly meet many faces.
The cards flip over and reveal more information about the team member than just name and title as you browse through the images. You discover interesting details about the team members, such as their interests or series. Plus, 16 different languages are spoken inside Crowd! So it's safe to say that it's one of the most diverse teams you can ever come across.
---
Massive Media is an independent branding and experience design agency with a great variety of services, such as branding, digital marketing, and web design. The Vancouver-based agency has a modern and elegant website. Their About Us contains general info about the team members and the agency, including the services provided by Massive Media and their core values.
Unlike many other agency websites, this page is brought together under the heading Agency. They have awe-inspiring and professional-looking team pictures displayed at the end of the page. The agency's dog, Onyx, is also included in the team photos, and his title is "Chief Barking Officer," which puts a smile on your face when scrolling.
---
If you are looking for successful web design agencies, we've already curated a list of the best options!
---
Major Tom is a full-service digital agency that combines top-level strategy with implementation and technological capabilities. Their homepage creates a remarkable impression due to the parallax effect, and the same goes for their ''meet the team'' page.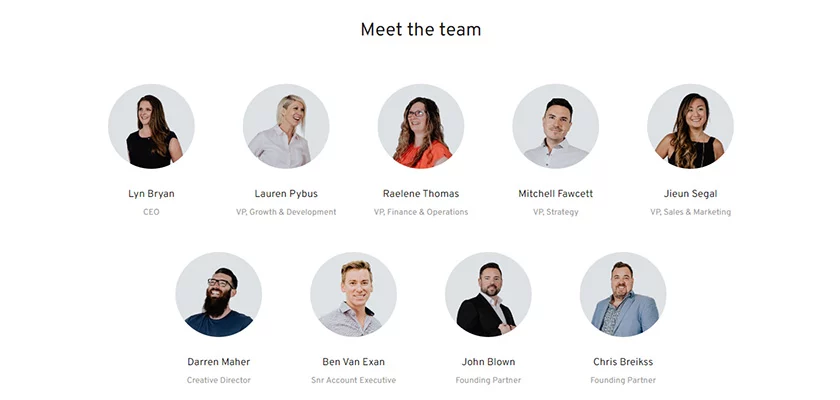 Embellished with retro illustrations, a short, to-the-point design explains Major Tom's approach and showcases the team. The page explains why you want to work with Major Tom and allows you to meet core team members. Straightforward, clean, and well-designed.
---
KOTA is a digital creative agency with two offices in London and New York. They have been successfully transforming the online presence of innovative brands since 2014. Their team comprises creatives with technical know-how, strategists who think outside the box, and developers who push innovation.
The website of KOTA is exceptionally well-designed and creative, with a splash of neon blue and pink. When you enter the agency page, you are greeted by a few words in which the agency briefly expresses itself, and then a pleasant video under the title Our Studio. The video shows the work of the KOTA, along with the chance to take a small look at the office environment. Seeing the team having fun together both in the office and outside their work environment makes you feel much closer to them.
Finally, we see team images again in neon blue-pink colors.
---
Positive Vibes. That's for sure the first that comes to mind when we first visit Seed's Meet the Team page. The agency ensures us that they care about their team with a heartwarming statement: People are everything. The page features a simple layout with vertical rectangle boxes that include high-quality pictures of the team members' smiling faces. Based in the UK, Seed is a performance marketing agency on a mission to grow for good and offer PPC, SEO, Social Media, UX, and email marketing services.
---
When we first enter the meet the team page of Luminary, a showreel video about them welcomes the user. In this short video, they fit some agency employees, the services they provide, and the customers they provide this service to. The agency also included a small detail on the About page explaining the meaning of its brand name.
Luminary describes its employees as "digital warriors" and includes them under the heading Our People, accompanied by high-quality visuals. While all employees' pleasant and entertaining poses attract the user's attention, they spread positive energy to the agency's website. Luminary has been creating award-winning digital experiences since 1999, and they mainly specialize in large-scale projects implemented with Kentico, Episerver, Sitecore & Umbraco.
---
Bleech is a web development agency that codes quality WordPress websites. Their solutions are based on a modular system, making them simple to maintain and extend. The team at Bleech defines themselves as Problemsolvers, Technical-Thinkers, and WordPress-Lovers. As you scroll down, you can take a look at the pleasant working environment they have at the office.
The Team page follows the same color scheme as the website. You may find the agency's values and objectives by reading further into the website, which also contains a brief history of how and why the company came to be.
---
Toronto-based digital marketing agency Search & Gather is focused on paid search (PPC), paid social, and conversion (landing page optimization). When Search & Gather set out, they were an enthusiastic small team of 5, as they stated on their meet our team page. The page displays hilarious images of the core team working from one of the team member's apartments while they still had no office space. The takeaway? Whether there's a fancy office or not, they look happy, and everyone is having fun while working. Who doesn't want to work with a group of people who love what they do no matter where they work?
---
Redonk perhaps has one of the most entertaining agency names we have listed so far, and their name is not the only funny thing about Redonk. Redonk Marketing is a digital agency focused on creating user experiences that build brands, deepen customer relationships and grow businesses. The Texas-based agency opted for a simple and friendly meet-the-team page titled "Who We Are."
Firstly, a few explanations are displayed on the culture and perspective of Redonk. Then we see the team portraits that seem pretty normal until you scroll over them. Spoiler alert – The plain photographs change shape, and funny pictures of team members appear. Hover at your own risk.
Wrapping Up
A creative meet our team page is a wonderful place to show your agency's culture and people. Use your creativity to add personality to this section. Adding videos, using illustrations, or mentioning personal details about your employees will make your brand more memorable. Professional photoshoots also have the potential to completely change the mood of the team page and take your page to the next level. Lastly, this is a great place to add job postings.
Don't take the potential of this page for granted, and make the virtual space of it work for your brand to shine.
---
---