Best Web Design Agencies for Startups & Small Businesses
Do you want to say that you are there for your audience and have a place in their mind with outstanding web design and content? You can achieve this goal by partnering with one of the best web design agencies and companies that can contribute to your business in a big way.
As a startup or small business owner, building brand awareness, long-term digital marketing strategy have great importance from the beginning of your journey.
Growing can be challenging for your brand. Fortunately, a digital presence can be helpful to express your goal and meet your audience.
Therefore, getting help from professionals can open millions of doors for you, by helping you to showcase your products and services with endless creativity. For this, you can get support from the best web design agencies for startups and small businesses.
What's more, we have all learned how to do all the work through remote work during the pandemic and we have become the masters of it. Hence, it's your choice to get the service of your partner agency that has an office near you or the one that is just a video call away.
What Are the Advantages of Working With a Web Design Agency for Your Business?
There are many benefits for you with an overall web design service including web development, SEO, brand identity, user experience, and content. Websites are one of the most important pieces of your online presence.
Here are some of the important advantages to work with a professional web design agency for your business:
Building trust with your audience
Shining out among your competitors
Creating consistency
Increasing conversion
Making the right impact
Best web design companies uses the best web design tools
Top Web Design Agencies and Companies in the USA for Startups and Small Businesses
We have reviewed numerous digital agencies from around the world and compiled the best web design agencies in the USA providing high-quality web design services for startups and small businesses.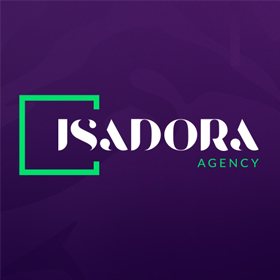 Isadora
Isadora is one of the best web design and development agencies for startups and small businesses that identifies and executes innovative, dependable digital experiences. They make it possible for brands to form meaningful connections with their customers.
Visit Website
RNO1 defines themselves as the embracers of change. They aim to connect your brand with your audience and captivate their hearts and minds. If you choose to partner with RNO1, you will receive a service that is free from any boundaries as their creativity and vision have no limits. Your small business or startup will highly benefit from this vision and will be positioned to be powerful and purposeful.
They can create digital platforms for your startup that will empower your users and your social community. This deep understanding of what motivates them enables them to develop and fine-tune the most effective ways for generating quick ROI for your business. Among the services they provide for web design are:
Digital Strategy
Digital Activation
UX & UI Design
Web & App Development
Functional Prototyping
SEO Strategy & Systems
The Charles is a full service, creative and digital agency that focuses on strategic campaigns, digital design, technology and content creation.
Sibling duo — Aaron Edwards and Samantha Edwards founded The Charles in 2011. Since then, they have an understanding of cool and an insatiable appetite for all things pop culture.
They have a talented in-house design team who have the ability to tackle design projects.
They created a visual narrative integrating with the branding, website and content strategy for one of their partnered brands. In the end, they reached a 42% higher conversion rate, 125% increase in revenue.
eDesign Interactive is an award-winning web design company in the USA building effective digital strategies, dazzling websites and interactive campaigns. The team merges innovative ideas with meaningful stories to reach the hearts and minds of audiences.
eDesign recently collaborated with SundaySky to create an elegant landing page summarizing their integrations with the Adobe Experience Platform. The minimalistic concept conveys the brand's message in an abstract manner using clever 3D animations. The design's smart visualization creates an engaging customer experience.
The company also redesigned the website of Dyrdek Machine, the venture studio of Rob Dyrdek, former professional skateboarder and reality TV personality. The innovative design features icon animations to guide users through the investment principles of the Machine Method.
Webenertia is a Silicon Valley-based website design agency that helps B2B startups & small businesses build and accelerate their web, brand, and digital marketing by providing expert, trusted, data-driven solutions that deliver results.
The agency prides itself on delivering compelling narratives, thoughtful experiences, measurable benchmarks, and cutting-edge technology to support your brand story and website strategy.
Co-founder Steve Ohanians describes Webenertia with these words:
WebEnertia is not just a design agency or a coding house. We bring our special multidisciplinary approach to every project.
Beyond builds world-class products for the digital age as a design and technology agency. Plus, they can help you make better versions of your businesses.
What's more, they provide design and technology services to leading companies including Google, Facebook, Paypal, Mailchimp, Snapchat, Just Eat, PurpleBricks, and the Royal College of Art.
It's an amazing portfolio they show us and prove the great work they generate. Powerful brands have chosen Beyond for the design beyond imagination.
Priding themselves as their clients' biggest fan, WEBITMD offers data-obsessed, and results-driven web design services for small businesses and startups.

WEBITMD believes that a successful website relies on visionary creativity and experience. They aren't just pixel pushers who create visually great websites; the team at WEBITMD starts the development process by conducting extensive market research to learn how the target audiences of your small business interact with digital material.
Then, utilizing cutting-edge technology, they create specialized sites to relocate and convert them. WEBITMD creates your brand's "wow factor" in the digital realm, from the perfect remarketing ad campaign to setting out sophisticated responsive web designs.
Awesome is a New York-based web design agency specializing in startups. They've collaborated with more than 65 companies, including Udemy, Skift, and Wanderfly.
They design everything from MVPs to full-fledged products, and as startup founders, they know how to help bring those ideas to life, whether it's through seed funding, prototyping, or applying to accelerator programs.
Unlike typical agencies, they pride themselves on being hands-on throughout the process, which they've discovered is crucial to a startup's success.
Best Web Design Agencies in the UK
Discover the best web design agencies in the UK. These agencies with award-winning web designers in their teams will deliver the best results for your company.
Crowdform was founded in 2015 as a digital product studio for a new generation of startups. Since then, they've launched digital goods and services for a diverse range of companies, from category-defining startups to some of the world's most powerful organizations. Crowdform now has offices in two countries and works with clients all around the world to help innovators solve complex challenges and bring new ideas to life. They believe that great design should be straightforward, elegant, and easy to use. Crowdform uses the same user-centered approach to every project.
It takes a team to create digital products. Crowdform has improved its approach for collaborating with clients and other external teams with minimal friction. You'll have complete transparency, and you'll be able to relax knowing that everything will go according to plan. As a web design agency for small businesses, they cooperate on ideas to build your product idea. By creating, producing, and launching digital products, they ensure that they are fully functional. They also assist you with iterating and improving your product once it has been released.
KOTA is a London-based digital design agency specializing in creative web design, web development, branding & digital marketing. Furthermore, you can trust them to translate your brand into its best digital self as they have both technical and creative skills.
They are a boutique team of designers, developers, and strategists who have the qualities you need for an unforgettable website design. Discover the award-winning agency KOTA and have an engaging creative website.
KOTA strategically designs your websites as one of the best web design agencies for startups via a series of workshops, wire-framing, and user experience (UX) sessions, to end with a site that reinforces credibility, communicates key brand messages, and brings you a return on creativity. They like to work with people who really appreciate good design. KOTA's designs will make you stand out from the competition and provide your users with an engaging and refreshing experience.
Best Web Design Agencies in Canada
If you're looking to improve your company's online presence by working with a respected web design agency, check out our list of the best web design agencies in Canada. You can explore these agencies and compare case studies, projects, and testimonials to decide which one is the perfect fit for you.
Pound & Grain is a digital agency in Toronto and Vancouver with high-level strategy and creative thinking. They can deliver great results and connect audiences.
They can bring your ideas to life, design experiences in order to make you happy with the work they implement.
One of the benefits is that they will work with you to develop a campaign by also helping launch your product and brand. This will be collaborative work that you can finally solve complex business problems.
Massive Media is a Canadian digital agency with offices in Toronto, Vancouver and Calgary. Their experienced team design and develop websites that define categories and position to succeed in an interconnected world. WordPress, Headless CMS, eCommerce…, they cover the gamut.
Their web design and development services include strategy, UI/UX design, usability testing, technical planning, quality assurance and ongoing iteration. Whatever your startup or small business needs, Massive Media is ready to fulfil through their web design and development strategies.
KRFTWRK is a digital design and marketing company dedicated to driving change. They do this through rapid prototyping and growth marketing tactics. They are a product marketing agency focused on delivering high-quality design prototypes & marketing processes for startups and small businesses.
Your website is the most important part of your digital marketing funnel. KRFTWRK ensures it's a worthwhile investment by tracking its results to well-defined business goals. They build websites with drag-and-drop editors so you have full control and flexibility with minimal-to-no development support. They offer premium hosting and dedicated support and maintenance. Though it's not required, KRFTWRK highly recommends it, as they have spent hours researching the best hosts for their websites. As one of the best web design company for startups, KRFTWRK may be the best choice for you.
Best Web Design Agencies in Australia
We bring you the best web design agencies in Australia that have all the skills needed to take your business to the next level. Don't forget to check out their case studies and client reviews to learn more about these agencies.
Frank Digital is an award-winning digital agency in Australia that creates beautiful websites accelerating digital transformation.
They have a deliberate commitment to putting the user 'front-of-mind'. What's more, they engineer every aspect of their operation to achieve success.
The heart of a small, and brains of a big agency come together at Frank Digital. It doesn't matter if it is a simple microsite or a sophisticated enterprise solution, their work excels at engagement and effectiveness.
DIJGTAL is an innovation-led strategic design and marketing agency, with offices in Sydney, Vancouver, and Los Angeles. Founded in 2016, it provides a more strategic partnership engagement for clients. By bridging the gap between Experience Design and Marketing, DIJGTAL transforms complex business problems into ingenious human-led solutions for early-stage startups, enterprise ventures, and corporate partners. DIJGTAL's culture and collective mindset is the kind that embraces authenticity, demonstrates confidence, and crafts thought-provoking outcomes.
As a web design agency for startups, DIJGTAL builds on early-stage insights through robust qualitative and quantitative research methods, in order to understand the psychology of consumer behavior. It is delivered after establishing a human-centric approach to designing a comprehensive end-to-end experience for products, processes, services or environments, and through sound execution of user experience design principles. Agile-focused delivery is made by DIJGTAL in close collaboration with business, design teams, and the consumer to maintain visual consistency, usability, security, and functionality.
Best Web Design Agencies in Europe
Professional website design agencies are what you're looking for if you are really determined to take your business to the next level. With web design tools and freelancers providing web design services, you can only develop a simple website. So we selected the best web design agencies in Europe that can create a world-class website for your business.
Mimosa is an integrated digital creative agency focusing on branding, inbound marketing, research, consulting and also web design services for small businesses. They can help you identify, reach, engage, grow and convert your audience into customers.
They are a multidisciplinary digital marketing agency, consulting studio, and creative production house based in Berlin.
Your unique value proposition is safe with them because they accurately capture your brand's personality and processes so you receive bigger and more consistent clients.
---
Why Is It Mandatory to Work With a Web Design Agency to Have a Good Website for Your Business?
First impression, the moment when your audience meets your website is crucially important. The reason is that you want to build trust and make a positive impact on your visitors.
Also, the harmony in your web design can enable them to stay longer. Likewise, memorable slogans telling them about your brand can start creating a long-term relationship with your users. If they can find what they are looking for and what you are offering to them easily, that means you can meet their expectations.
Once your visitors decide to spend more time on your website, there are great opportunities for you to lead them to your services and products. So, this can happen when you build trust with your audience.
Moreover, consistency will make your visitors stay longer on your page, making them potential customers.
Website design is not just a graphic design master. It requires more expertise and lots of know-how on digital marketing as well. This is why you need a partner with one of the best web design and development agency before making any decision on your website.
---
To sum up, website design and development take time and need detailed planning.
Therefore, you should know that you are well suited to online marketing. Take this advantage to increase your engagement with your target audience and try to rock with your web design.
Let's join the adventure of creativity by choosing one of the best web design agencies for startups and small businesses from the list above.
---
---