Top WordPress Design and Development Agencies with Creative Projects
All content management systems have their own benefits but there must be a reason for more than 30% of the World Wide Web built on WordPress. With the best WordPress agencies assistance, you can get the most out of it.
There is no limit on what you can do with WordPress. However, general opinion thinks WordPress is for blogs, you can build every type of site on it, including eCommerce sites to SaaS services.
Why Should You Choose WordPress for Your Website?
WordPress agencies can help you to build your websites, but you need to maintain it without needing an agency and it should be easy. So, WordPress is the most popular choice for it. It's easy to customize with a little coding knowledge and it's the most SEO friendly CMS.
With WordPress, website owners have access to thousands of plugins These range from email provider plugins, to design plugins, to content marketing plugins, and more. Capabilities of WordPress are limitless. This makes it an attractive option for everyone who wants to build a website.
Best WordPress Agencies All Around the World
Visitors get used to seeing similar themes on the websites which they use. If you use a ready WordPress template, you can still make a great website. However, WordPress agencies can make your site high-performing and unique. So, we gathered the best ones from all around the world. The list does not include agencies that only focused on WordPress design and development but also full-service agencies that have great experts for WordPress development.
Isadora
Bleech
Major Tom
Hallam
Propeller
KOTA
93digital
Sitback
Elementary Digital
Asquared Agency
---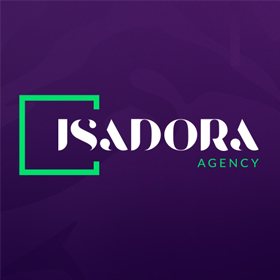 Isadora
Isadora is a digital agency that truly understands WordPress website design and development. They can lift your brand website to all new heights of customization and without any doubt, your brand will immediately capture your customer's attention and convert demand into sales.
Visit Website
Bleech is a WordPress Agency from Berlin. They provide high-quality WordPress design and development services. Their solutions are based on a modular system. This helps both Bleech and their clients maintain a lean and easy-to-extend structure.
Bleech team explains their love for WordPress with the following sentences:
If you know your way around coding, you can create a top-notch customized site that operates flawlessly. WordPress has been designed to be simple to use. Simple here, though, doesn't mean less powerful.
Major Tom combines the top-level strategy you'd find at an established consultancy with the implementation and technological capabilities you'd find at a leading agency.
US and Canada based WordPress agency works with a team of industry-leading specialists hand-picked from across the globe. They've been serving their partners from their offices in New York, Toronto, and Vancouver.
WordPress development is one of Major Tom's high quality services. The development of a project begins with a complete development plan and functional requirements along with deliverables from previous phases such as wireframes, design, and a sitemap.
During the development phase, their full-stack development team will work in collaboration with UI and UX designers to bring a site to life that is faithful to the designs. Prior to launch, their robust QA process ensures cross-browser and cross-platform compatibility.
Hallam is recognized as one of the UK's leading WordPress development agencies, and they have been selected by WP Engine, the leading WordPress digital experience platform provider, to be a WP Engine trusted Advanced Partner.
Partnering with the right WordPress design agency is fundamental for growing as a business. With a dedicated team of web developers in Nottingham and London, Hallam is trusted by their clients to deliver scalable, flexible, and secure WordPress projects and experiences.
Hallam's approach to WordPress design revolves around three main foundations:
Technical Excellence
Built for SEO
User-Centred
So you will end up with a flexible, fast site that gives your business a secure, scalable presence – from the experts in the world's most popular CMS.
Propeller is a full-service digital agency with offices in London, Birmingham and New York. They have over 18 years experience in creating unique digital experiences for brands.
Propeller is a leading WordPress specialist agency in London and NYC.
The agency's approach to website development fuses creativity, technology and data analysis – giving you the platform you need to reach new audiences and engage your existing customers. They provide website design & development, UX digital strategy, eCommerce, SEO & PPC.
Propeller is proud to have developed WordPress websites for some of the UK's leading hospitality and lifestyle brands.
If you are looking to partner with a digital agency on your WordPress project, Propeller's expert team would love to talk to you about your brief.
KOTA is an award-winning creative web design agency based in London and New York. They specialize in bringing brands to life digitally. Their team is experts at crafting bespoke WordPress solutions, with multiple recognitions from experts at AWWWARDS and CSS Design Awards.
They never work from templates – everything at KOTA is designed and built from scratch, tailored to clients' business needs. They deliver digital transformations with great results across countries and multiple sectors including tech, hospitality, film, B2B, and architecture.
Take a look at their beautiful WordPress sites for San Francisco-based Martin Building architecture company or tangerine, a design consultancy with offices in London and Seoul.
93digital is London based enterprise WordPress agency. They empower ambitious marketing and content teams to be successful.
The agency named by Econsultancy as 'One to Watch' in their Top 100 Digital Agencies list as a premium London WordPress Agency.
As enterprise WordPress web design specialists, they deliver fast, flexible, user-centric, secure & scalable digital platforms built on the world's most popular CMS.
Amnesty International was looking for WordPress experts in designing and building a more user-friendly service while guiding them on how they should best embrace the power of WordPress as a CMS.
93digital embraces the strength and flexibility of open-source software, and the agency took a user-centric approach to what was needed and delivered some core and custom functionality, including:
A bespoke email notifications system to notify journalists of specific stories, with a Vue.js front end
Support for various multimedia formats, including the ability to download documents, images, and videos in different languages
Multilingual support, including 'Right To Left' for Arabic
Sitback helps organizations produce more compelling products and services for their current and prospective customers, resulting in exceptional experiences for everyone. They offer a wide range of services, including WordPress design and development.
As a talented WordPress agency, Sitback builds fast, responsive, secure, and scalable WordPress websites that are SEO friendly and optimized for exceptional user experiences.
Whatever your project requirements, Sitback has the skills expertise to leverage all that WordPress has to offer in order to make your project a success. In addition, if you need to extend WordPress functionality in a way that hasn't been conceived before, their development team is well-versed in creating customer plugins for WordPress.
Sky News launched its unique digital platform, 2600. When they were launching it, the Sky News team needed a clean, easy to use digital newsletter, supported by a responsive CMS-powered website. The requirement is enabling content editors to schedule crucial content for timed morning releases to a high-profile audience. The Sitback team used their WordPress expertise for the web development phase of the project.
Elementary is an award-winning WordPress agency that specializes in user experience, web design, WordPress design and development. They have many beautifully designed WordPress websites in their portfolio.
The agency is in WpEngine's WordPress agency partners list.
UK's one of the most recognized and booked hotel chains Travelodge's website is in their portfolio. A content focussed business, Travelodge uses WordPress to manage all content pages on their site. Needing enterprise-level WordPress development, Elementary Digital works with the Travelodge team as part of their content roadmap and support its comprehensive website strategy.
Asquared Agency designs & builds award-winning digital websites using WordPress that are fast, flexible & scalable. They don't just do WordPress development, they live and breathe it. The agency's team of experts combine their technical, creative and marketing expertise with their dedicated support to bring you simply outstanding WordPress development services.
As a part of the growing WordPress community, Asquared Agency has selected a partnership program with WordPress VIP. It is a prestigious featured partner program that has till now picked only 20 agencies as partners worldwide.
Why Should You Work With A WordPress Agency?
As we mentioned, WordPress is the most popular CMS, and it has its own disadvantages too. If you want to build a unique website, it's hard to make it with ready to use WordPress themes. Most of the users will feel a deja vu when they land your website.
This could result in reducing the trust of your company. WordPress agencies can prepare customized solutions just for you. It will make it easier to stand out from the crowd. A good-looking website isn't solving all problems.
WordPress agencies are specialized in getting the maximum performance from the website and make it easier to maintain for you. If you are not sure how to choose a WordPress hosting company, most of the WordPress agencies have partnerships with the best WordPress hosting providers. So, you can be sure that your website will be hosted by a reliable hosting service.
---
If you select one of the top WordPress agencies, you will have a beautifully designed and high performing website that you can maintain easily for years.
---
---