Description:
At Beyond, we partner with people that want to design a better future.
We're a design and technology agency that creates digital products for the world's most ambitious brands. We believe that products that combine empathy, technology and joy will conquer the world. Our design team is at the forefront of what we do, applying the highest level of craft and creativity to make the products and services of the future.
Role Overview:
Beyond is looking for a mid-level UX Designer with a focus in design and research to help us create exceptional digital products for some of the world's most exciting brands. As part of a hyper-collaborative multidisciplinary product team, you'll help set the vision for end-to-end user experiences and work hands-on to turn that vision into reality.
As a developing UX Designer, you'll often have full autonomy on products with guidance and support from senior team members when you need it. You are driven by user needs as defined by data, analytics and metrics. You are passionate about developing beautiful, meaningful, human-centered products that meet both user needs and business goals. You'll use that passion to exceed client expectations, inspire your coworkers, and help us build our product capabilities across the studio.
As A UX Designer At Beyond You'll:
Design best-in-class user experiences and clear, systematic information architecture
Plan and execute user research, including usability testing, surveys, focus groups, ethnography, and guerrilla-style testing
Work with users to understand their needs and pain points and to identify opportunities for improvement and new ideas
Craft clean, cogent, on-brand presentations for internal work (e.g. pitches) and client workshops/meetings
Travel to clients' offices when needed to better understand their environment and build empathy for their challenges
Document your work when necessary in the form of presentations, sketches, wireframes, prototypes, etc
Plan and participate in (sometimes lead) workshops with colleagues and/or clients
Approach every problem with a lean UX mindset, supporting product quality, innovation, and rapid time to market
Create happy, thriving partnerships within nimble, collaborative, multidisciplinary teams and with clients
Things That Will Make You Stand Out:
Your focus on UX and your calling and affinity for other areas of the product development process and a strong appreciation of UI
3+ years of experience designing for all devices in consumer-focused tech and/or agencies
An interest in and experience working with digital strategies or collaborating with digital strategists
Ability to work comfortably toward pixel-perfection or with low-fi sketches, depending on need
Your ability to bring your designs to life with a number of UX, design and prototyping tools including Sketch, Principle, Invision, and the Adobe Creative Suite
Your desire to learn and grow in your discipline, and regularly seek feedback from coworkers to help you do so
And In Return, Beyond Offers:
A team of passionate people who genuinely care about what they do and the standard of work they produce
A generous learning and development budget per employee per year and opportunity to get certified on Google Cloud and other skills relevant to your role
Competitive salary, flexible benefits schemes such as healthcare & dental, workplace pension, 25 days holiday, plus you get your birthday off for free and we have a paid office closure between Christmas and New Years
15 days paid for sickness and wellness
In-house Mental Health First Aiders
Enhanced Maternity & Paternity Leave
6% matched contribution pension scheme
Flexible working options
We offer co-working arrangements in which our employees are able to share office space within our London Bridge hub
A strong company culture whilst working on a 'remote first' basis – this includes weekly meetings, company updates, team socials, quizzes and celebrations
Having been named among Sunday Times Best 100 Companies, we believe culture plays a large role in what we offer as an organisation. We actively promote diversity in all its forms across our Studios and we proudly, passionately and proactively strive to create a culture of inclusivity and openness for all our employees.
Beyond is committed to welcoming everyone, regardless of gender identity, orientation or expression. Our mission is to remove exclusivity and barriers and encourage new thinking and perceptions, in a space of belonging. It is not about race, gender or age, it is about people. And without our people being their most creative and innovative selves, we are nothing.
Job Application Link: https://www.bynd.com/careers#view-our-open-roles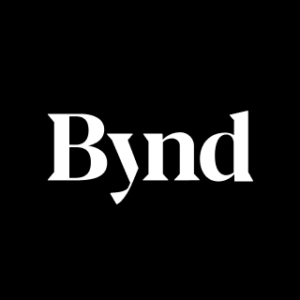 Beyond
Beyond is a design and technology agency that builds world-class products for the digital age.
APPLY NOW
Our member agencies are always looking for the best candidates to hire.